This week is a community meet up.


Episode 350 Airs Wednesday, June 24, 2020, at 2:30 pm ET / 11:30 am PT / 7:30pm BST
This week is a community meetup and we're talking about STRUGGLES. This is a community meetup where you are able to get on camera or see others in the community (finally put a face to a name). This community meetup is about where and how we struggle. I hope this will be a real conversation about where we are struggling right now in our businesses.

Are you struggling with getting more clients? Getting the right type of work? Getting paid your value? Or are you having trouble with processes or systems? Or hiring? Or staying focused? Can't wait to see you live!
You don't have to go it alone. I can't wait to see you live on Wednesday.
Or listen here:
Have you gotten used to the COVID lifestyle? Are you hitting walls in your business or are you getting held back by limiting beliefs about yourself or your abilities?
I know I have hit walls even last week. But I am trying new things, are you? Falling on my face should be expected? Really struggling to do something I am not comfortable with is hard. So why do I expect so much from myself? Why do I expect never to fall?
When I learned how to ride a bike, I fell. Did you? Do you expect more from yourself than you should? Where has this manifested itself in your business life?
Do you stop yourself from doing things that you should be doing because the feelings you have to face are too much to deal with? We are creative right? So our imaginations can run WILD. But maybe if we stick together, we can tell each other when we are blowing things out of perspective.
Do you want to come on with me this Wednesday and talk about what your struggling with? Or do you want to come on to offer some support or to share a way you struggled in the past but overcame it?
The first ten people who respond will get to go live with me on Wednesday. Will it be you?
My fear is that I will be alone. It has never happened. Why do I think you'd bail on me now?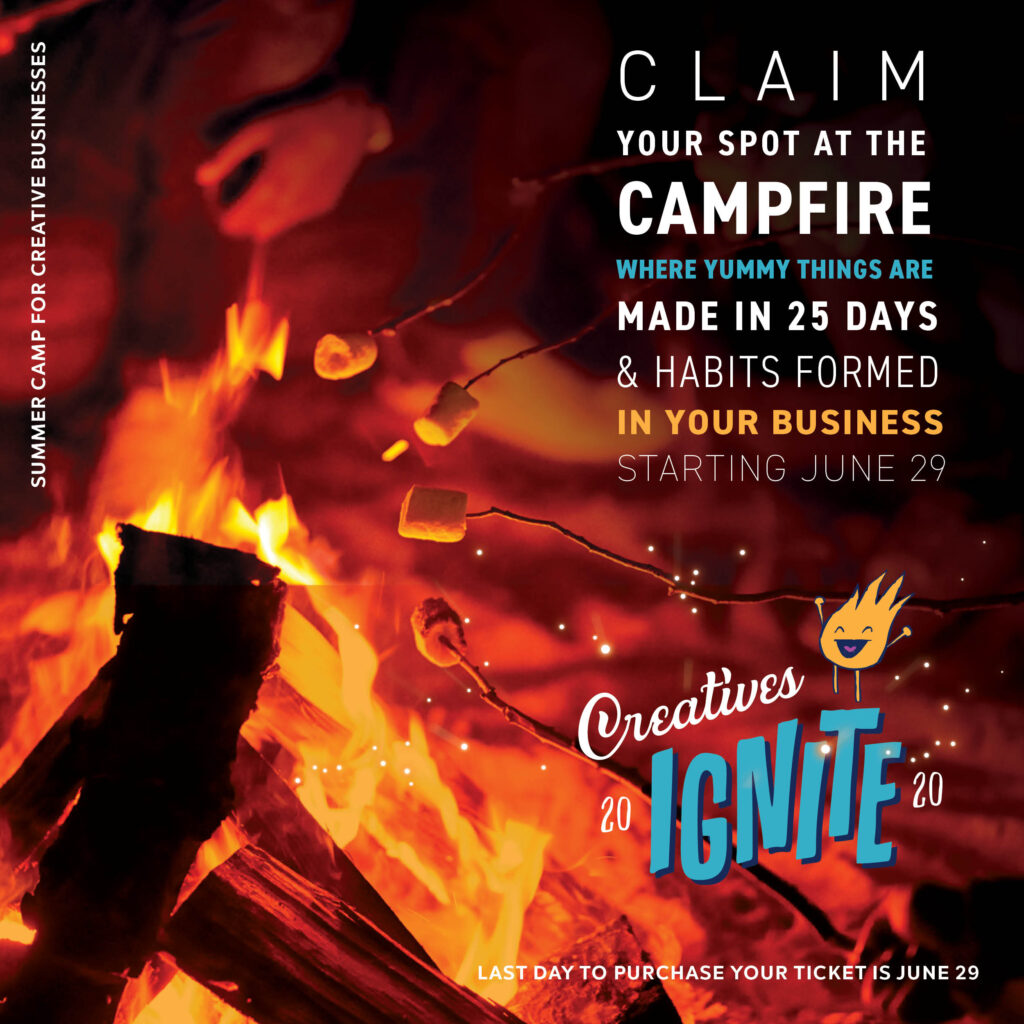 Camp Starts Monday, June 29! Don't miss out.
Claim your spot by the campfire. Accelerate your growth by doing 30 min of learning + 30 min of implementation each day for the 5 weeks of July.