Episode 419, Live on October 12, 2022.
I have been in awe of and inspired by Von Glitschka for years. He always seems to be doing something new and working on a self-initiated side project, teaching something, working for clients, speaking at events, and being a front runner in our industry.
I wanted to ask him how. How he is able to do all this? Manage his time, his energy, his clients, his relationships and stay fresh and not burn out. After over 20 years in our industry, Von is still setting bars high. He is innovating and making a difference in the lives of his clients and in the lives of designers and illustrators around the globe.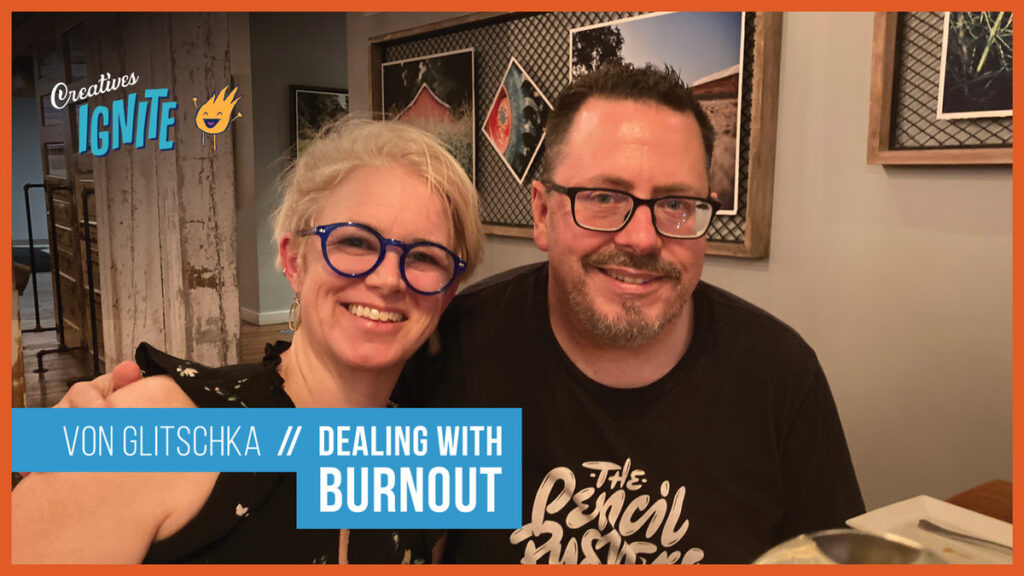 I am thankful to call him my friend and I am excited to hear the answers to these questions. I hope you will join me live, Wednesday, Oct 12, 2022 at 2:30pm ET / 7:30pm BST / 11:30am PT / 8:30am in Hawaii.
Sign up to get the link at https://creativesignite.com/signup
You can always join us for the live taping experience and be part of the community. Come a little early and introduce yourself in the chat, say hey & tell me where you are located in the world.
The Questions
Von, can you tell everybody how long you have been running your own business? And how many different things you do currently in regards to income streams?

When was the first time you experienced burnout, can you explain the situation?

How have you avoided it since then? Do you now sense the signs? What do you do when you feel it coming on?

What's the difference between burnout and creative block?

In all the areas of your business, you seem to always be able to find time to do new things. The new podcast, People Love Process, growing your YouTube channel, speaking at conferences, doing self-initiated projects, teaching on LinkedIn Learning, all while still serving your clients and doing client work. And being a husband, dad, friend, etc. How do you keep things going? Do you work in seasons on certain things? How do you split up your time?

How do you start a self-initiated project? What makes you want to do one and where do you get your inspiration initially? Is there a common thread in how you get inspired or where you go to for the inspiration?

Does inspiration for client projects work the same? Do you go to similar places for inspiration?

Can you walk us through your process of working through an idea?

Why is process so important to you? Why start with sketches by hand and work them out on paper first before going on the computer or ipad?

What do you do when you get to a part of a project and are simply unmotivated to continue? How do you get through that stage?

What is one thing you've learned in the last year that's been the most impactful to your life and business?
Connect with Von
https://www.glitschkastudios.com/
https://www.youtube.com/c/GlitschkaStudios
https://www.instagram.com/vglitschka/