LIVE on WEDNESDAY, Nov 8, 2023 at 11:30am PT / 2:30pm ET / 7:30pm BST / 9:30am in Hawaii
This week I will talk to Mitch Goldstein about his new book, How to be a Design Student. We are going to talk about being a student, teaching students, and having the mentality of a life-long learner. What helps prepare someone for being a student of design? Are there things you wish you'd known before getting into it?
I have a feeling some of these tips would help anyone who is going to pursue a bachelor's degree, not just design students. These might be great things to know especially if you are planning on hiring a recent graduate. Do they know what to expect? Do you know what to ask to help decipher what they know and what they think they know?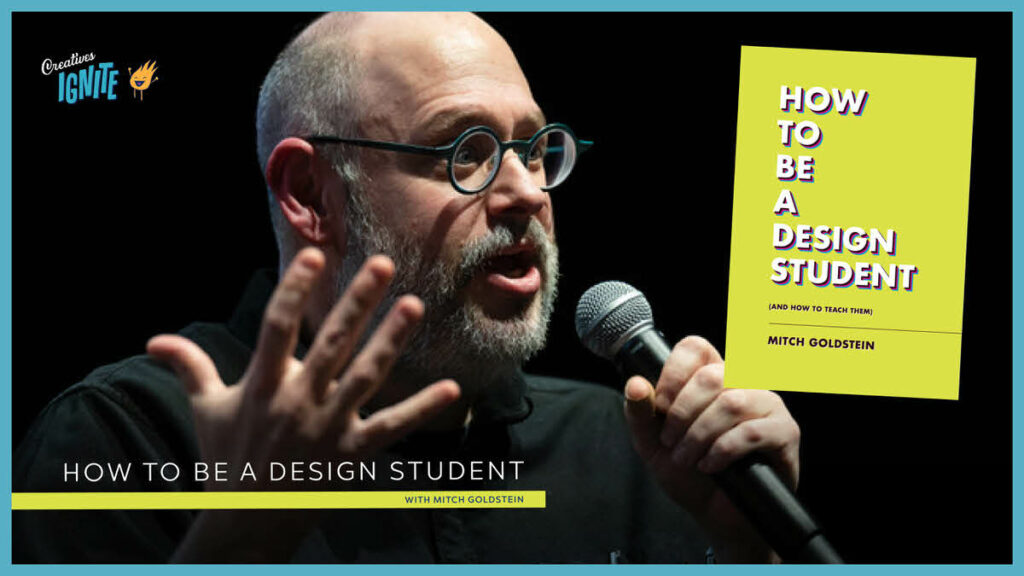 Let's dive in…
I hope you will join me for Episode 453, LIVE on WEDNESDAY, Nov 8, 2023 at 11:30am PT / 2:30pm ET / 7:30pm BST / 9:30am in Hawaii
You can be part of the conversation live with us. Simply join the Creatives Ignite Family by giving me your email and get a reminder email 30 min before the show: https://creativesignite.com/signup You can also add it to your calendar so you don't miss it. (Those links are in the emails). See you there, then you can type in the chat and ask questions live.
Questions
Mitch, can you tell everybody a little about your background in design, including where you got your start, where you are in the world, and what you do now?

What made you start writing the "Dear Design Students" tweets?

How did the book come about?

Is this book for people who want to be designers? Is this for anyone or traditional college students? Is this just for someone who is going to student design at a college or university?

I think of myself as a forever student and I am wondering if there are any bits of wisdom that even a seasoned designer or a designer who is working alone might glean from the book?

I know you also love to learn and most recently got another degree in furniture design. Can you tell us what attracted you to furniture and how you see it melding with graphic design, is it a pivot point where you will be only building furniture, or is it more of a hybrid practice?

What are some of your pet peeves in regards to students who are studying design?

What about pet peeves that are just student related?

What do you love most about teaching?

What's next for you?
Listen here
Connect with Mitch
https://mitchgoldstein.com (book info)
https://instagram.com/mgoldst (social media)
https://www.rit.edu/shopone/artists/mitch-goldstein (my work for sale)
Other links
Imaginember is here:
All month we will be exercising our imagination with one of my favorite creativity exercises. Join me!
https://creativesignite.com/imaginember-2023/
If you would like to give to the Save the Ta-Ta's which is for Medical Expenses for Julie Reed's Cancer that returned: Go Fund Me: https://www.gofundme.com/f/Save-The-Ta-Tas-Again
Join us for Imaginember
Transcript
Text will go here